Complete Autobody
& Paint Services
Sharpy's will Sharpen Your Ride!
Serving Colorado Since 1995
8884 Federal Blvd., Unit 42C
Denver, CO 80260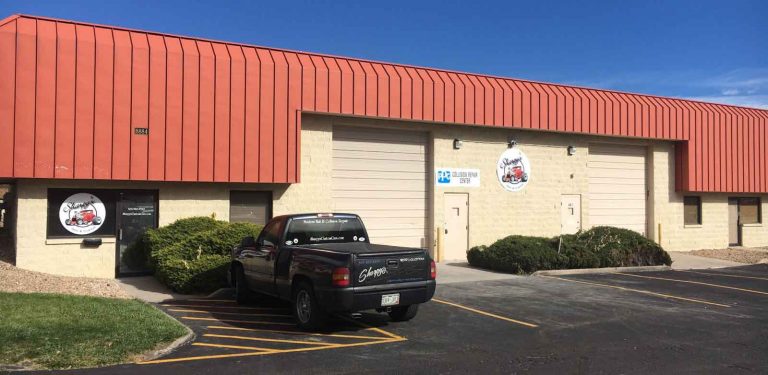 Best place to take your car for body work restoration. They do great work on classic cars and collision repair
My Escape looked great after they fixed all the hail damage from June. Thanks, Mark!
I don't see why or how someone could write a bad review about any one at sharpys.especially the owner Mark he's or there craftsmanship the have always been honest and up front with me about the whole process.and they did an amazing job on my car .they tore down my whole infinity q50 and put it back together without an issues at all.the pain job is out of this world better then I could have imagined.Im really glad I took my car there and not somewhere else.
Positive: Professionalism, Quality, Value Marc, Beau, Walt and JD did a complete body restoration and paint on my 1937 Chevy. The final quality was fantastic. Communication throughout the project was good. They return your calls and don't hide from you. Customers will need to understand the time frames involved with the various levels of work requested as it can take awhile to get a project completed if you want quality. They took a very old car and turned it into a real head turner. The price was very fair for the end project...not cheap, but a good value for the work done. Be patient and they will produce a beautiful end result. I am sure the collision/hail damage work is much faster, but you should be prepared to leave your project there for a bit if you are restoring a classic or muscle car....but they will not disappoint in the end. I would definitely use them again if needed in the future.
We own a 67 Camaro that Marc worked on for the past two years. We are very pleased with the results. There are a few items we noticed that need to be fixed but very minor. Once the car is done with upholstery Marc is happy to have the car came back and tweak these items. He's always been professional and accommodating especially with this being our first time having a car restored and all that entails. Far more then we anticipated, but Marc was there to guide us through the process and in return we have a beautiful classic to enjoy for many years to come. Thank you Marc and crew you really know your stuff!
I was so pleased with the work this shop did on my 2016 Mazda. I experienced horrible service from another body shop in the area and Marc at Sharpy's was amazing. They got my new bumper ordered, painted, and were able to do the replacement without leaving my car overnight. I am so grateful that they were able to do an awesome job and have my car back the same day. Friendly and quality service 10/10 recommend.
I've had Sharpy's paint 3 of my vehicles now and every time was great!
I've worked with Marc and Bo for over a dozen years. They did my Nephews 65 Chevelle and our 2015 Impala. They know what they're doing! I'd trust Marc & Bo anytime with any of my vehicles!
Have any questions for us?
We'd love to hear from you – Drop us a line, or stop by anytime.
"Sharpy's will Sharpen Your Ride!"
8884 Federal Blvd, Unit 42C, Federal Heights, CO 80260